At the November Museums and Computer Network conference, I marveled at the different ways museums around the country are using 360 videos with their visitors or in their education programs. To highlights these different applications, I started this limited series of interviews  – same questions, different institution – so we can look for patterns.
In our third in this series of interviews with museum staff around the country about their use of 360 videos, I got to work a little closer to home. Ellen Bari, curator and writer at the Children's Museum of Manhattan (CMOM), invited me to walk the ENTIRE two avenues that separate our two venerable institutions and learn up close what they've been up to these past two few year (and, if I was behaved, get to do a little dance).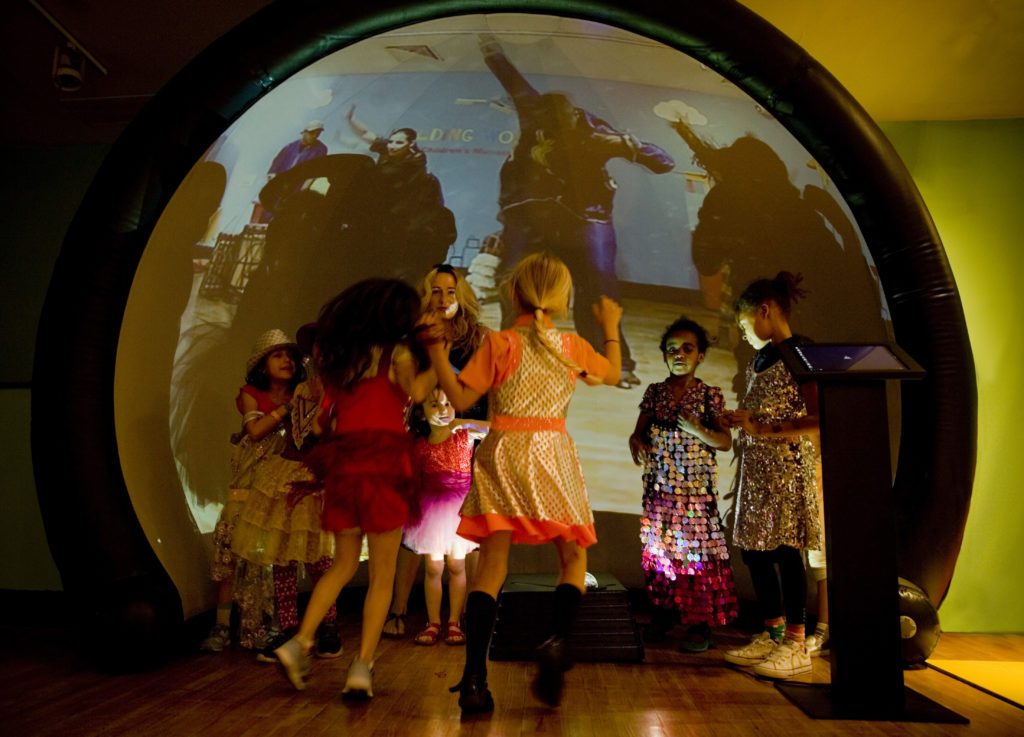 Ellen, when did you start exploring 360 video (and if that's not what you call it, what's the term round your ways)?
About four years ago, we were developing an exhibit called America to Zanzibar: Muslim Cultures Near and Far and wanted to give our visitors an immersive experience with Muslim architecture on a very limited budget. We were thrilled when we found Elumenati, a company that specializes in projection design. We licensed magnificent 360 images of mosque architecture from around the world and displayed them on Elumenati's off-the-shelf GeoDome Panorama. The result – families were able to enjoy a truly unique immersive experience.
At this point, just 360 still images, not video yet, right?
Right. At this point we were featuring still images shot in 360 by various photographers around the world. The response from visitors young and old was so favorable that we applied for a grant using similar technology to create a Dance Portal introducing the world of dance through immersive video footage. We received the Museums for America Award FY2016 from the Institute of Museum and Library Services, and began prototyping. The beta version of the Dance Portal was so well received that we were inspired to develop an exhibition/dance space around it. Let's Dance!, currently in CMOM's lower level gallery, introduces children and families to the delights of dance. The Dance Portal is the cornerstone of that exhibit.
What is the content you are working to put into 360 videos?
Dance in all its multicultural glory! We divided the content into simple categories: SEE, for performance clips, DO, for tutorial clips, and LEARN, for cross-cultural explorations of basic choreographic terms.
One of the great challenges to producing and curating the Dance Portal was that there is a very limited amount of dance footage that has been shot in 360. This prompted us to shoot some original video of our own. Working with videographer Paul Anderson, we shot 180 degree video in the studios of a number of world-class dance companies including Camile A. Brown & Dancers, and Elisa Monte Dance. We also filmed a number of dance companies in 180 while they were in performance at the Children's Museum including Ajna Dance Company, Féraba – African Rhythm Tap Company, Kanu Dance Theater and Thunderbird American Indian Dancers.  In addition, we were able to procure a number of 360 clips and decided to include some HD footage, even though it does not fill the screen in the same way.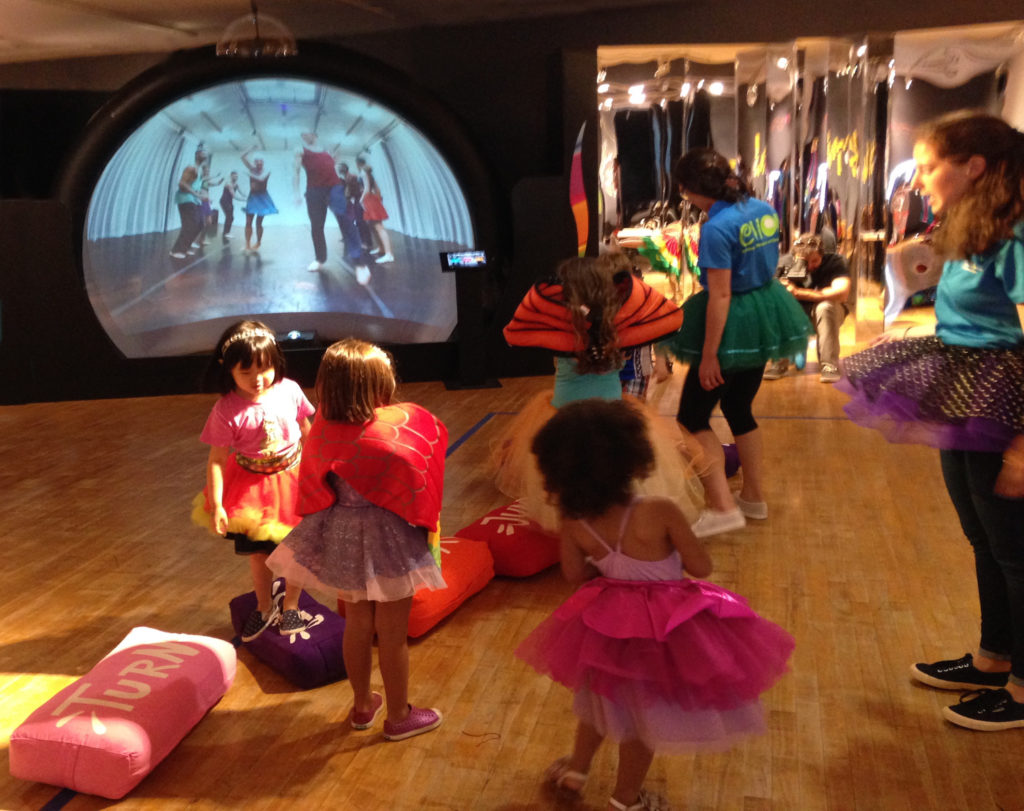 Why doesn't it fit the screen?
The portal screen is a ½ dome – basically a semi circle. It's looks like a blow-up amphitheater. Video shot in 360 or even 180 will fill the portal screen from end to end.  Standard HD footage, will display in the shape of a rectangle, or traditional video format, which has an aspect ratio of 16 x 9. We were able to stretch our HD footage a bit, and found that these clips have impact as well, in part because the content is so compelling, but also because many of our viewers are small and the screen is big.
Most 360 footage displays, whether in a dome or on a standard screen, allow viewers to scroll around the video to explore every angle. We eliminated the interactive aspect of scrolling so that our visitors will be moved to dance, as opposed to getting caught up in their ability to control the video.
What goes into obtaining and editing the footage?
Beyond filming our own material, lots of research, personal referrals and persistence. A few of the large international dance companies have some 360 footage but the licensing was either unavailable or out of our reach financially. Others were very generous, like Blanca Li Dance Company, Mark Morris Dance Group, Martha Graham Dance Company and Alvin Ailey American Dance Theatre who all gave us permission to use their footage.
I found some wonderful surprises online too, like an authentic hula performance shot in 360 atop Volcanoes National Park in Hawaii. We also had a wonderful collaboration with Mickela Mallozzi who shared more than 30 multicultural HD clips from her Emmy award-winning show "Bare Feet with Mickela Mallozzi."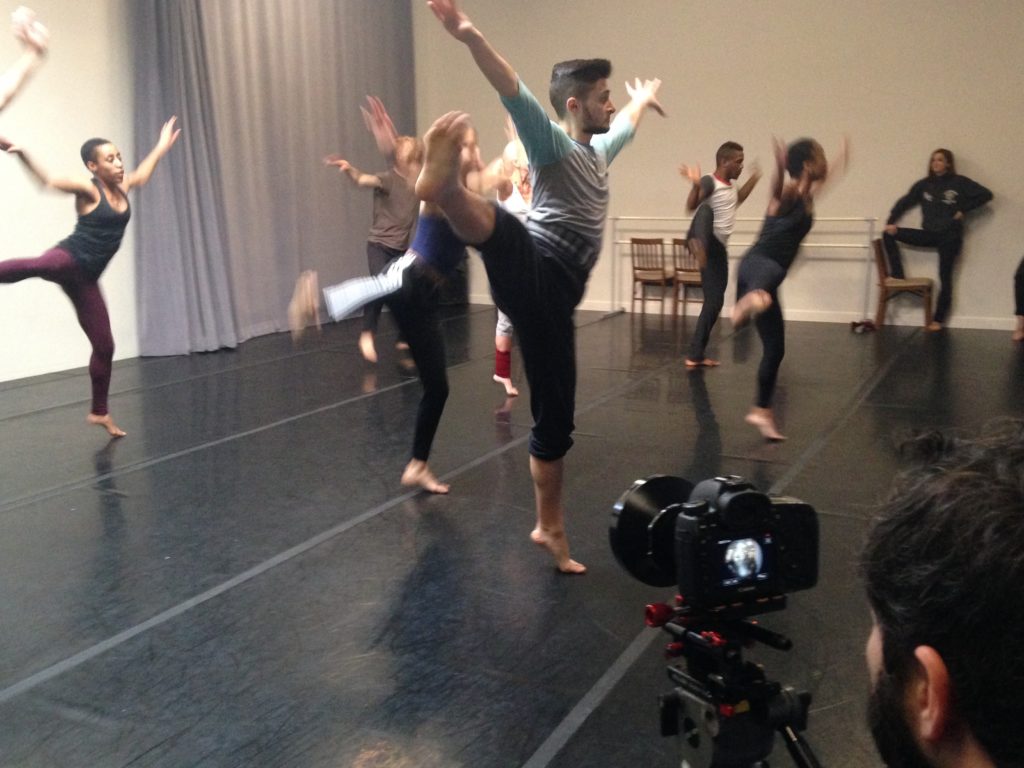 Who is the 360 video designed for, and where will they encounter it?
Visitors of all ages can enjoy the Dance Portal daily in the Let's Dance! exhibit. Each video clip includes a short description of the featured company and dance located on an interactive tablet near the domed screen. Museum educators and adult caregivers use the Portal as a jumping off point to get children moving.
The Dance Portal content is reinforced throughout the exhibit. For example, the Dance Parade photos highlight the diversity and energy of New York City's dance community. Children can engage with colorful bolster pillows with the same choreographic terms that are featured in the Portal—skip, jump, turn, etc.— and they can enjoy fun dress-up opportunities inspired by the dance groups.
What are you hoping 360 video will help you or the museum to achieve?
By offering our families the opportunity to immerse themselves in dance forms that they may not be familiar with, we are hoping the Dance Portal will inspire our visitors to seek out more dance in their own lives, at home, in school, and in their communities, both as dancers and spectators.
Do you have any initial findings?
The Dance Portal has been very well received thus far. We look forward to adding content and increase the offerings as 360 video becomes more popular and as we continue to host dance performances of all kinds at the Museum.
If you have a 360 dance video clip, please reach out to me at ebari@cmom.org.