Public Speaking
I regularly organize and participate on panels and offer workshops at industry conferences on topics related to museum-based learning, digital media and learning and games-based learning. Recent highlights:
Rapid Adaptation: Lessons from 100 Years of Gamified Learning at Girl Scouts" for the Games for Change Festival (2020)
Look Up at the Stars: integrating a user-centered design process into a natural history museum" for the Visitor Studies Association (2018), the Connected Learning Summit (2018), and at Museums and the Web (2017)
Get Hands-on with Virtual Reality!" for the American Alliance of Museums conference (2017)
Museum at Your Fingertips: Telepresence Tours for Schools" for Museums and the Web (2017)
Mobile Apps, Museums, and MicroRangers: Fighting the 6th Extinction with Playful Learning" for the Association of Science-Technology Centers conference (2016)
Empowering Youth Audiences to Ensure Inclusivity & Community Engagement through Technology & Gaming" for the New York Museum Educator's Forum (2017)
Renewing the Currency of Cultural Halls: Reframing the Past to Save the Future" for the Association of Science-Technology Centers conference (2016)
The DigitalLearningification of Informal Learning Centers: Lessons from Three Museums" for the Digital Media and Learning Conference (2016)
MAKING A DINO DANCE VIDEO FROM MCN 2017
Last November I was in Pittsburgh at the Museums and Computer Network conference, now one of my favorite. I offered a session called Making a Dino Dance: integrating a user-centered design process into a natural history museum, a ten minute overview of our work in FY17 (re: Prototyping Interactive Data Viz: Lessons Learned in FY17). It was a nice opportunity, among peers, to explore how the sausage is made.

The first "slide" is the YouTube video of JUST the audio. All the slides then follow. I recommend you open this page up in two windows – hit play on one to listen to the audio and use the other to click through the slides.
LESSONS LEARNED IN THE ITERATIVE DESIGN PROCESS WITH AR CONSTELLATION
Next week at the annual American Alliance of Museums conference in St. Louis, I'll be presenting with John Durrant, Marco Castro and moderator Lizzy Moriarty to "demystify VR content development and offer attendees the chance to get their hands on some VR tech." In advance of the session (on Monday, May 8, at 8:45 am) I was asked by the Center for the Future of Museums to share a preview of some of the session, which you can read here or below.

Last fall we launched a new initiative at the American Museum of Natural History in New York City: develop recommendations for engaging visitors with modern science practices by adding digital layers to permanent halls. What this looks like on the ground is working with one of the Museum's scientists (we have over 200) and then turning their digital specimens (CT scans, genomic data, astronomical observations) into a digital asset we can port into a variety of digital tools to be tested with the public.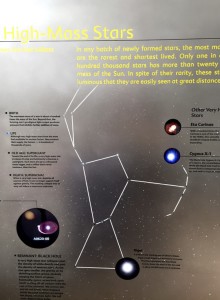 For example, we tried various ways of using digital astronomical data to explain the three dimensional nature of constellations. When people look up at the night sky, all the stars seem to lie in a single plane, all the same distance from Earth. In fact, stars occupy a vast three dimensional space—each a different distance from our planet. If you could change your perspective by flying off Earth to somewhere else in space, changing the distance and angle between yourself and each of the stars, you would see Orion "distort"— in other words, the 2D picture we create by drawing imaginary lines from star to star would change shape.

See how long it took me to explain that? We wanted to learn if we could use augmented reality (AR) or virtual reality (VR) to get visitors there, faster. Working with a slice of our Digital Universe database, we created a digital asset that simulates a number of constellations, like Orion. Then we tested a variety of ways for people to interact with this digital simulation of space
1: THE TANGO EXPERIENCE: In our Hall of the Universe (HoU) Visitors viewed a virtual Orion constellation on a Tango handheld device, which they could move forward and backwards, to see the constellation's shape/line change. Tango is like an iPad with one key difference: it knows where it sits in the space around it. This means, for AR, you can place augmentations in space and then use your Tango to walk around or (in the case of stars) among them.
RESULTS:Failure. Visitors did not leave having learned that stars sit in a 3D space. We concluded that was in part because constellations are too abstract (the points in a constellation represent real stars but the lines between are just pretend). But what if we made the experience less abstract, something you'd notice was different if its shape changed, like your face?

2: YOUR FACE IN SPACE: It'll take too long to explain here, but humor me and presume there's a good reason why we have a computer app that lets you turn your face into a constellation. We took the app into the HoU and invited visitors to map points around a live image of their face, switch the star names on and off, and then rotate their perspective around the new constellation.
RESULT: Not there yet. On one hand, it seemed to work to ask visitors to use their own face as a metaphor for stars in relationship within a constellation; lowering the level of abstraction was effective. However, many visitors experienced the rotation of the constellation image as due to the constellation itself rotating (which is incorrect), not the visitor's perspective shifting through space. What if it turned out that visitor's misunderstandings about stars in 3D space are just being reinforced when shown through a 2D medium? And what if,, instead, we offered them, through a 3D medium?

3: ENTER HOLOLENS: Visitors now viewed a virtual Orion constellation (as well as three smaller constellations) through a Hololens device. (Hololens is an augmented reality headset that enables the wearer to see, and navigate, computer generated images or landscapes.) Walking back and forth, and around, visitors viewed the constellations as existing in a 3D space, with a backdrop of real stars.
RESULT: It worked! While the first iteration failed to communicate the core idea, and the second iteration was successful half the time, the Hololens version worked EVERY time. As the visitor walked around or through the constellation, the stars "moved" at different speeds, depending on their distance from the observer. But could we up the bar, designing the experience to require a visitor wearing Hololens to interact with other visitors, to make it a social experience?

4: ESCAPE THE PLANET: Over a four day design sprint, co-developed with Museum youth learners, we created a prototype of an escape room with an astro-theme: Escape the Planet. (Escape rooms are physical adventure games that require players to solve a series of puzzles.) One of the puzzles required a group of players to use a UV flashlight to find clues in posters that identified one particular constellation. A different player, wearing the Hololens loaded with a new version of the AR Constellation experience, had to look at the name of the closest star to Earth within that constellation (also known as its catalog number) so another player could record those digits and use them to open a padlocked case.
RESULT: Hololens users playing Escape the Planet maintained social contact with the rest of their group, and appeared to have done so more often and with more intensity than during the first three iterations. But was this due to features of the new version of AR Constellation, or due to placing it within a game?

5: STAND ALONE AR: The week after testing Escape the Planet, we took this latest version of the AR Constellation in Hololens back out into the Hall, specifically to watch how users interacted (or not) with the others within their party.
RESULT: Most visitors using the standalone AR said that wearing the Hololens did not affect the way they related with the people around them (in other words, they ignored them and focused on the AR Constellation experience). This is in stark contrast with the Escape the Planet players who not only reported a "heightened desire to cooperate" but expressed a need to share.
And so it goes. Now, a few months later, we are porting a number of our digital specimens into a holdable AR device called a Holocube. Do you think visitors would like to hold a constellation in their hand? It might be time for a new iteration…
THE DIGITALLEARNINGIFICATION OF MUSEUMS
Below is my post from my latest column on DMLcentral:
This past October, I had the pleasure of presenting in Irvine, California at the new home for the Digital Media and Learning Conference on digital learning at museums. With my colleagues Eve Gaus of The Field Museum and Rik Panganiban of the California Academy of Sciences, we tried to identify the leading trends we've seen emerging in recent years, given our different vantage points as advocates for digital learning in our respective museums.
Playfully titled "The DigitalLearningification of Informal Learning Centers: Lessons from Three Museums," we tried to make the case that museums are unique and influential informal learning institutions that can be powerful spaces for young people to learn, connect and create digital media. Museums often have more freedom and resources than a school, library or after-school program to support a variety of digital learning offerings for youth, such as tinkering spaces, youth-led media creation, and exhibit creation. At the same time, museums are moving beyond siloed programs for young people, toward connected learning experiences that better integrate with school-time learning, other institutions that youth are involved in, and their time with their peers.
The major trends we explored:
a maturing space
youth as co-designers
distance learning
augmented and virtual reality
A MATURING SPACE

We each began at our respective institutions four or so years ago. In that time, we've each seen digital learning grow and spread within our museums. At The Field, the digital learning team was first institutionalized in 2010, as a way to use technology to engage learners in the museum. A formalized commitment was established with the opening of the Grainger Digital Media Studio in 2012, a digital studio that would host both face-to-face and distance learning programs. At the California Academy of Sciences, the work began five years ago as an independent special project; that project merged into youth programs within the Teacher and Youth Education Department and is now integrated into a suite of youth programming across the education division. A similar process happened at AMNH. Our youth digital learning strategy increased the number of digital tools in use and doubled the use of digital tools of science. Perhaps more importantly, we also deepened the integration of substantive digital practices across often-siloed areas as the sites of digital innovations spread throughout the department.
In other words, at all three museums, pedagogy and practice has been innovated and spread, leaving strong foundations for the years ahead. We're ready for the next steps.
YOUTH AS CO-DESIGNER

We are all seeing youth increasingly treated as not just recipients of knowledge but as co-creatives with the museum to create public-facing informal science learning experiences. There are many examples, from youth councils to game design projects, with topics like whale ecology and global threats to biodiversity. The Field Museum, for example, worked with youth to design curioCITY, a teen-only career night that pairs a scientist with non-scientist to discuss career pathways. The Academy this year launched a youth advisory team called the Teen Think Tank, a group of committed young people who review and give feedback to museum initiatives from new exhibits to social media campaigns and classroom curricula.
DISTANCE LEARNING

Technology is increasingly bringing visitors into the museum without leaving their home, school or workplace, changing the face of science. At the California Academy of Sciences, their new Science Action Club a middle school after-school program, has expanded to 350 sites throughout the country, made possible through virtual trainings of frontline educators, using free app-based citizen science tools. At The Field Museum, classrooms across the country are connected to a scientist and educator, who talk about the scientist's current research and connect that research to what students are learning in the classroom. Interactions like this illustrate that science is an active and ever changing field, that we don't know all the answers, and works to break down stereotypes about who scientists are and where they work. And all three of us are offering programs and content on sites like Coursera. Khan Academy, iTunesU, and YouTube.
AR/VR

AR/VR has been dominating the news, not just within digital learning but in popular media as well with the rapid spread of Pokémon Go and the development of consumer-grade wearables, like Sony's new VR goggles. AMNH has launched an innovations lab dedicated to exploring how such tools might offer interactive science data to visitors within our Halls. A CT scan of a Mako shark skeleton augments the one hanging in the Hall of Biodiversity, and can be made to swim and bite. A virtual orchard provides visitors with the opportunity to shrink down to the size of an insect to learn how they breathe without lungs. Meanwhile, at The Field, Google Expeditions are giving teachers VR experiences within their halls.
GROWING UP MINECRAFT: 6 YEARS OF LIVING AND LEARNING IN MINECRAFT (VIDEO)
In October, 2016, my son and I presented together at the Minefair event outside Philadelphia. We presented it on both Sat and Sunday – this video combines the best of the two (big thanks to both my wife and Chris Haskell for the footage, and Steve Isaacs for inviting us both to present).
UPDATE:

Wizard Keen (AKA Adam Clarke), the phenomenal Minecraft innovator, who co-hosts Wonder Quest with Stampy, was in the audience on the second day of the presentation. Here's the lovely tweet he made about it:

If you want to watch more of Akiva's Let's Play videos, go here
FOUR CONFERENCES IN FOUR WEEKS: ASTC, MAKERFAIRE, DML & MINEFAIRE
I am getting ready for weeks upon weeks of conference travel. To get me pumped up (both to go and share it with you) I created this video in homage to science museums (using the new video sensation I learned from my kids).
With that out of the way, let's get on to business. This weekend I am going to ASTC in Tampa, the gathering of science centers (and related natural history museums like ours). The weekend after we're presenting some AR demos with Hololens at the New York Maker Faire . Then, it's off to the something-old, something-new Digital Media and Learning Conference (DML) in the shadow of DisneyLand. With the family in tow, I'll then be heading to Philly for my first Minefaire (a fan-oriented Minecraft event) where I'll be presenting with my son.
This will be the first time I get to connect with my professional peers wearing my new hat. If you haven't heard, after four years leading digital learning within our youth programming, I now have a new role at the American Museum of Natural History (you can learn more about it here ).
ASTC – Tampa


I'd love to speak with anyone involved with a science visualization lab – come find me!
MAKER FAIRE – QueensMy new colleagues exploring emerging media are teaming up with the Interactive group with Exhibitions to offer this: "Come explore hands-on AR/VR and Arduino/Raspberry Pi prototypes under development at the American Museum of Natural History: explore the surface of Mars, dive deep into the anatomy of a shark, and explore the boundaries of how we sense the world."
DML – Anaheim

On the first day I will participate and share a paper within: "Power Brokers: Building Youth Social Capital through Connected Learning." Then, within the main conference, I will co-present with Eve (from the Field) and Rik (from CalAcademy) on our "The DigitalLearningification of Informal Learning Centers: Lessons from Three Museums." After spending a year collaborating on our podcast Object Oriented – exploring digital learning in object-based museums – DML is a great opportunity for Eve, Rik and I to track how DML has changed education programs within natural history and science museums in recent years and how that has led, in part, to the end of our podcast (I know – so sad). Is it the end of DML or just the sign of a more mature phase?
I'd love to speak with anyone using AR or VR for learning – come find me!
MINE FAIRE – Philadelphia

I have no idea what this event will be like, but I can't wait to find out. My son and I have 20-minutes to present "Growing Up Minecraft: a father and son explore six years of living (and learning) in Minecraft." It's loosely based on a talk I gave last year at Bard College but this time I won't just be speaking ABOUT my son but WITH him. I'm super excited.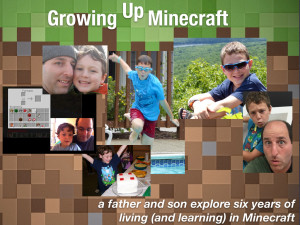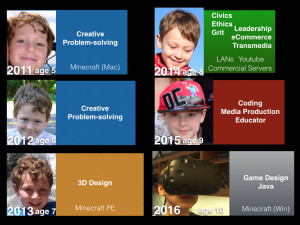 VIDEO FROM "CO-DESIGNING MUSEUMS OF THE FUTURE" PRESENTATION AT GAMES FOR CHANGE FESTIVAL
Last month, I had the opportunity at the 13th annual Games For Change Festival to work with two youth from our educational programs to explore how the Museum understands games as a form of public engagement and, more specifically, how we worked together to create MicroRangers. You can learn more about the event at my earlier post here and watch our 18 minute long presentation below:
WORKING WITH YOUTH TO DESIGN MUSEUMS OF THE FUTURE – PRESENTATION AT 13TH GAMES FOR CHANGE FESTIVAL